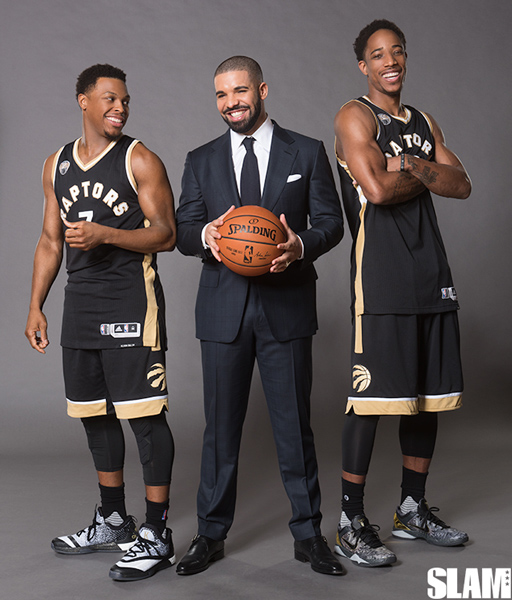 The 6 God graces SLAM. Raptors Global Ambassador Drake reps the Toronto team alongside two key players, DeMar Derozan and Kyle Lowry, on the cover of the basketball magazine's Playoff Issue.
Shot by acclaimed photographer Atiba Jefferson, the cover features a dapper Drizzy in a suit and the young Raptors in their black-and-gold uniforms with the tagline "6 Gods."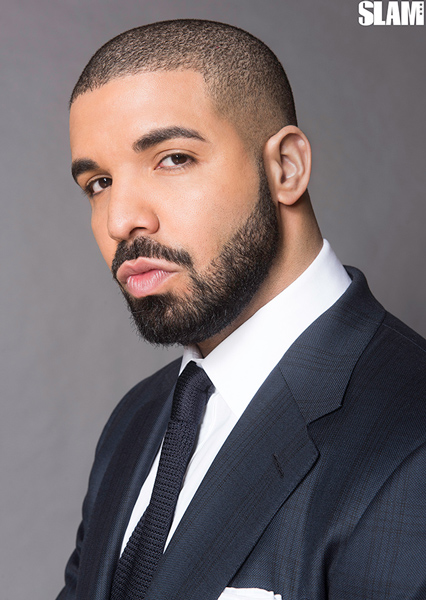 SLAM editor-in-chief Ben Osborne teased the "Playoff Blowout" with a piece on SLAM Online, explaining why the mag decided to roll with this cover, blending rap and hoops.
"It had to be the right rapper, which Drake, with his millions of fans, upcoming album and official role as the Raptors Global Ambassador, is," he explained. "And it had to be the right players, which Kyle and DeMar, fresh off their All-Star spots and still hungry for their firstSLAM cover, certainly are."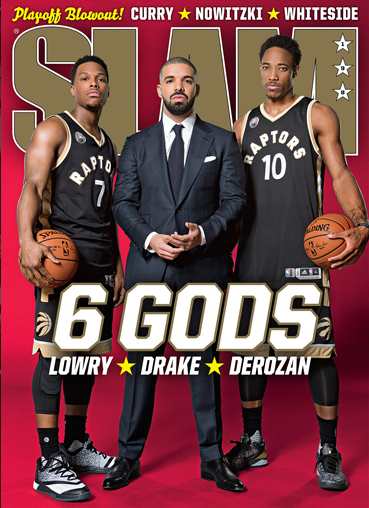 The "right timing" also played a role, he said: "With the upstart Raptors poised to go on the franchise's deepest Playoff run ever, our Playoff Issue certainly fit that bill. Hope you guys agree."
The Drake-covered SLAM 198 is slated to hit newsstands next week. View some behind-the-scenes footage from the shoot below.