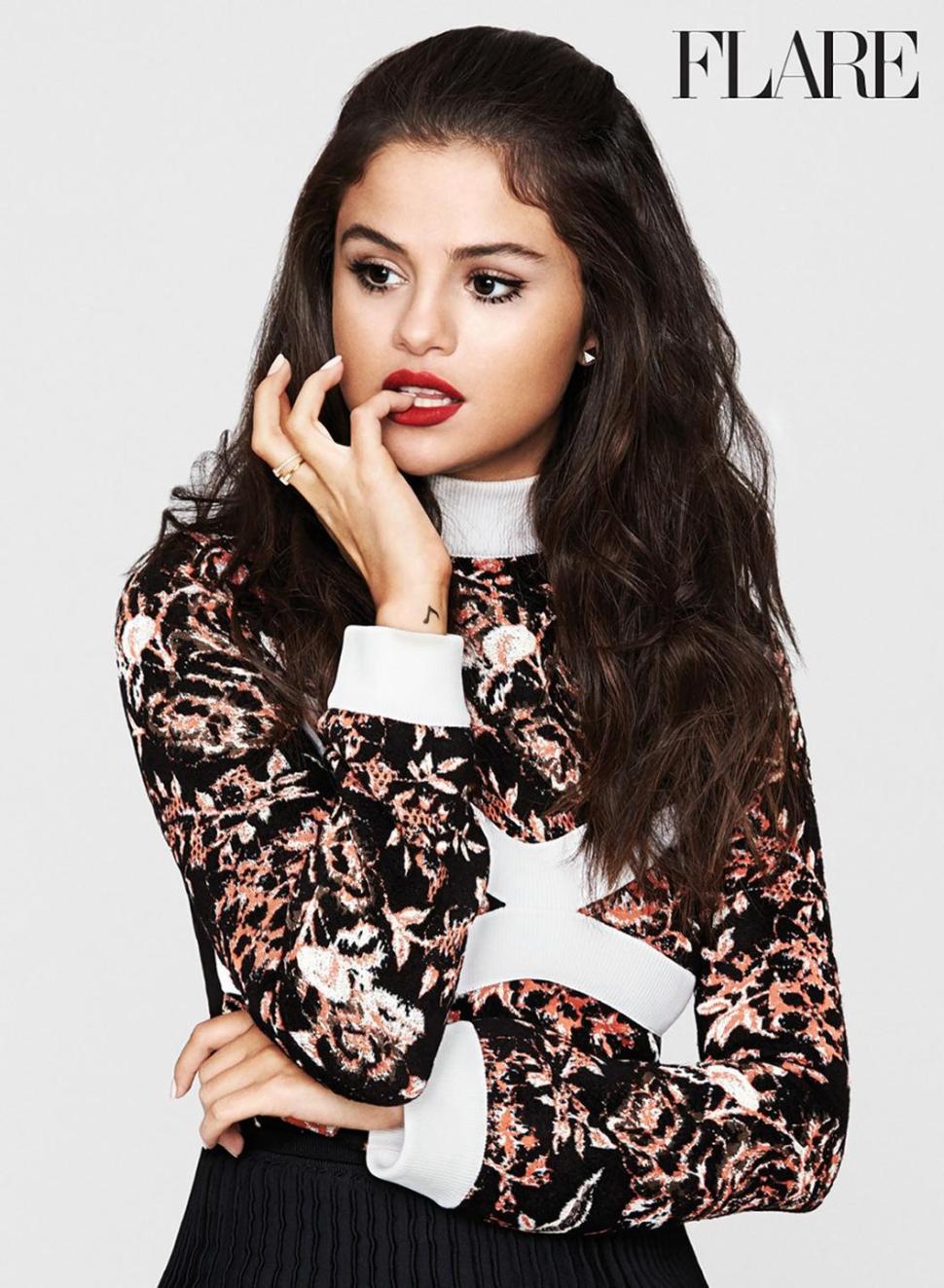 Selena Gomez is very much in charge.
Wearing a black leather dominatrix-inspired outfit, the 23-year-old opened up to the current issue of Flare magazine about her art and where she is right now, which is a very good place.
"This has been a transitional season for me, personally and in my career," she tells the magazine.
"I had multiple revelations and big accomplishments in my life: a new label and a new team; I've been working out more and focusing on my music; and I got to do a couple of movies," she continues. "I was really fighting for this transition."
"I feel confident," Gomez says, "I feel empowered, I feel in control."
She credits Taylor Swift, famed for bringing together people, and Gomez has many strong women in her life, whom she looks up to.
This past year has also taught her to not let haters bring her so far down. People criticized her about her weight, so Gomez poses, looking terrific, in a one-piece.
She took those emotions and put them into her new album, Revival, which she also executive produced.
"That was a big deal, because they were partnering with me as opposed to trying to mold me or shape me into something," she says. "Now that the record's done, I look at it and I'm excited that it was all me. It was all my choice."
Her choices include not feeling the need to have a steady boyfriend or constantly referring to her ex, Justin Bieber. She does date.
"It's not that difficult," Gomez says of going out. "I'm a nice young lady, but that's not my focus. I'm really stoked about being with myself right now."
She hopes her fans are stoked about that, too. Though Gomez shot to fame on Disney's "Wizards of Waverly Place,' she reminds everyone that she is 23.
"I think people are growing up with me, actually," she says in the magazine.
The full interview is available at Flare.com.
"Obviously, there are moments when people see me do something different and they're just not used to it," Gomez says. "But, ultimately, I'm not 16 anymore. I'm a young woman, and I'm growing up and trying to do it in a way I feel comfortable with."