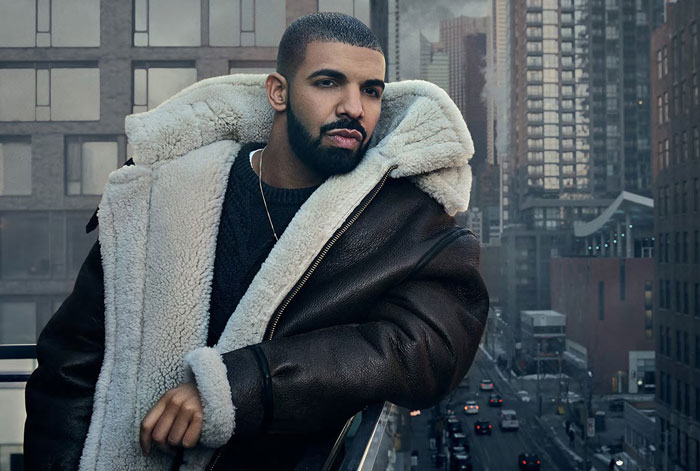 Fresh off his record-setting 13 nominations at the American Music Awards, the 6 God leads all nominees at the 2016 ceremony. This year, he earned 12 total nods, including two in the Video of the Year category. One of those is for "Hotline Bling" while the other is for his appearance on Rihanna's "Work."
Beyoncé follows Drizzy with eight nominations, including Album/Mixtape of the Year forLEMONADE. She also has two visuals up for Video of the Year: "Formation" and "Sorry." Aside from the 6 God and Queen Bey, the only other Video of the Year nominee is Kanye West with "Fade."
Beyond honoring this year's biggest stars like RiRi, Yeezy, DJ Khaled, and Usher, the show will also be celebrating talent from various eras. Teddy Riley, the creator of New Jack Swing, will receive this year's Legend Award. Meanwhile, Brandy will take home the second-ever Lady of Soul Award following Jill Scott's inaugural win last year.
Speaking of great voices, Erykah Badu will return as the show's host for 2016, bringing her eccentric and engaging style to the Orleans Arena in Las Vegas.
But this year's Soul Train Awards won't just be a one-night celebration. In fact, there will be a whole Soul Train Weekend from Nov. 3-6 with performances from Jill Scott, Tyrese, Monica, Anthony Hamilton, Jazmine Sullivan, Bell Biv DeVoe, Yuna, and Kid Capri, among others, as well as a comedy component featuring BET's "The Comedy Get Down" cast of Cedric The Entertainer, D.L. Hugely, George Lopez, Eddie Griffin, and Charlie Murphy.
Although the show will be taped early next month, the actual awards are set to air Nov. 27 at 8 p.m. ET on Centric and BET. See a full list of nominees below.
SOUL TRAIN AWARDS 2016 NOMINEES
BEST NEW ARTIST
Anderson .Paak
Andra Day
Bryson Tiller
Chance The Rapper
Ro James
Tory Lanez
BEST R&B/SOUL MALE ARTIST
Anthony Hamilton
Bryson Tiller
Maxwell
The Weeknd
Usher
CENTRIC CERTIFIED AWARD
After 7
Anderson .Paak
Bilal
Lalah Hathaway
Musiq Soulchild
VIDEO OF THE YEAR
Beyoncé – "Formation"
Beyoncé – "Sorry"
Drake – "Hotline Bling"
Kanye West – "Fade"
Rihanna feat. Drake – "Work"
BEST GOSPEL/INSPIRATIONAL SONG
Donnie McClurkin – "I Need You"
Hezekiah Walker – "Better"
Kirk Franklin – "123 Victory"
Tamela Mann – "God Provides"
Travis Greene – "Made A Way"
ALBUM/MIXTAPE OF THE YEAR
Beyoncé – LEMONADE
Bryson Tiller – T R A P S O U L
DJ Khaled – Major Key
Drake – Views
Kanye West – The Life Of Pablo
Rihanna – Anti
RHYTHM & BARS AWARD (FORMERLY BEST HIP-HOP SONG OF THE YEAR)
Chance The Rapper feat. Lil Wayne & 2 Chainz – "No Problem"
DJ Khaled feat. Drake – "For Free"
Drake – "Controlla"
Drake feat. Wizkid & Kyla – "One Dance"
Fat Joe & Remy Ma feat. French Montana & Infared – "All the Way Up"
BEST R&B/SOUL FEMALE ARTIST
Alicia Keys
Beyoncé
Fantasia
Jill Scott
Rihanna
SONG OF THE YEAR
Adele – "Hello"
Beyoncé – "Formation"
Bryson Tiller – "Don't"
Drake – "Controlla"
Rihanna feat. Drake – "Work"
THE ASHFORD & SIMPSON SONGWRITER'S AWARD
"Hello" – Written By: Adele Laurie Blue Adkins, Gregory Allen Kurstin (Adele)
"Rise Up" – Written By: Andra Day, Jennifer Decilveo (Andra Day)
"Formation" – Written By: Michael L. Williams Li, Beyoncé Knowles, Khalif Brown, Aaquil Brown, Asheton Hogan, (Beyoncé)
"Don't" – Written By: Johntá M. Austin, Mariah Carey, Bryan-Michael Cox, Jermaine Dupri, Tavoris Javon Hollins, Isom Brandon Stewart, Bryson Dejuan Tiller (Bryson Tiller)
"Needed Me" – Written By: Nicholas Valentino Audino, Rachel Derrus, Adam King Feeney, Robyn R. Fenty, Brittany Talia Hazzard, Charles Hinshaw Jr., Lewis Beresford Hughes, Dijon Isaiah Mcfarlane, Khaled Rohaim, Te Whiti Te Rangitepaia Mataa Warbick (Rihanna)
BEST DANCE PERFORMANCE
Beyoncé – "Formation"
Drake – "Hotline Bling"
Kanye West (Dance Performance feat. Teyana Taylor) – "Fade"
Rihanna feat. Drake – "Work"
Usher feat. Young Thug – "No Limit"
BEST COLLABORATION
Beyoncé feat. Kendrick Lamar – "Freedom"
Chance the Rapper feat. Lil Wayne & 2 Chainz – "No Problem"
DJ Khaled feat. Drake – "For Free"
Fat Joe & Remy Ma feat. French Montana & Infared – "All The Way Up"
Rihanna feat. Drake – "Work"