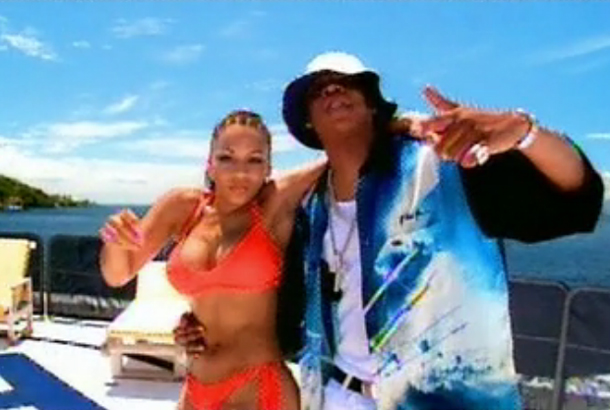 Karrine and Jay Z In Big Pimpin' music video
Writer and former music video vixen Karrine Steffans has received a great deal of fame in the hip-hop world, for her role in music videos as well as her liaisons with certain rap superstars, including Lil Wayne, with whom she had a lengthy and dramatic relationship, documented in her 2013 book "How to Make Love to a Martian." In a new essay published by the online magazine xoJane — written in response to Beyonce's new Lemonade album and its surrounding "Becky" controversy — Steffans looks back to the time when she acted as Jay Z's Becky, a stint that apparently lasted less than three minutes.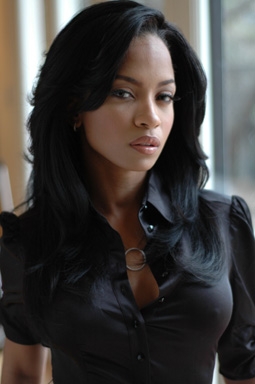 "Over 15 years ago, I had Beyonce's husband," wrote Steffans early on in the essay, which is titled "I Am Becky With the Good Hair (And I Am Also Beyonce)." She then revisits her first-ever experience as an actress in a hip-hop video, when she played a leading role in the Hype Williams-directed video to Jay Z and Memphis Bleek's "Hey Papi," which was set in Malibu. At one point during the shoot, when they had finished filming for the day, Steffans and Jay Z ventured off together down a beachfront road in a Maybach, eventually finding a comfortable position in the backseat. She wrote:
"Chauffeured away from the set, down the winding road, and closer to the shoreline, Jay and I feasted on our attraction to one another — rabidly and quickly. After just a few minutes, I lifted my head from his lap, wiped my lips, and knew we'd made a mistake."
Steffans went on to explain that she and Hov would see each other frequently over the years that followed, though they never engaged in any intimate activity or spoke of their short-lived hookup in Malibu.
Elsewhere in her essay, Steffans admits that she was also the Becky to Method Man for approximately six years while he was happily married with children. The ultimate message of her piece is that women are either forced into the role of the faithful wife (Beyonce) or the home-wrecking side piece (Becky). Both personas are products of a patriarchal cycle of suffering induced upon subservient women, yet neither Beyonce or Becky can fully satisfy the common man, who so often wants both a "hoe and a housewife." Thus, Beyonce's Lemonade only serves to further divide women and pit them against each other in an effort to compete in a male-dominated society. At least that was my take