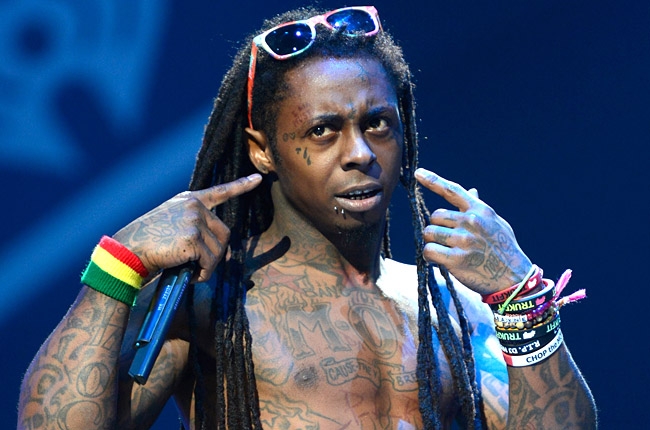 After suing Cash Money Records for $51 million last year, Lil Wayne has filed a new lawsuit against Cash Money's parent company Universal Music Group. In it, Weezy claims he's owed money for discovering and guiding acts like Nicki Minaj, Drake, and Tyga.
Wayne is now seeking $40 million in damages and profits owed from UMG, according to Billboard. He claims the money he's owed was used to help Cash Money get out of debt.
"With Universal's knowledge of Lil Wayne's rights to partial ownership and profits from those artists, Universal and Cash Money entered into a series of agreements which, among other things, diverted Lil Wayne's substantial profits to repay debts of Cash Money," Wayne's complaint reads. "As a result, 100% of the profits that should have been paid to Lil Wayne as a result of his ownership of Drake, Nicki Minaj, and Tyga records have been seized by Universal to repay debts that were neither incurred by nor were the obligations of Lil Wayne."
The Young Money boss' lawyer, Howard E. King, also released a statement about the suit: "Universal should be grateful and respectful to Lil Wayne for the millions of dollars in distribution fees and profits they have earned on the artists he brought to the company, instead of seizing all of his profits on those artists in a desperate attempt to recoup the tens of millions of dollars they are owed by Cash Money Records."
After the lawsuit was filed, a UMG spokesperson discredited Wayne's case. "These claims are entirely without merit," the spokesperson said. "It should be no surprise that we learned of the lawyer's complaint through the news media. We don't intend to dignify this with further public comment except to say that we will vigorously contest it and that the merits of our case will carry the day."
SoundExchange, a company that helps "collect and distribute royalties" for artists according to its website, is also being sued by Wayne. Why? "Universal has claimed a right to 100% of the label performance royalties attributed to the YME Records," the claim says. "SoundExchange refuses to pay any of the money due to Young Money LLC and Carter individually based on Universal's conflicting demand."
Cash Money's feud with Wayne affects this case, too. According to the report, Cash Money reached a 2003 agreement with Weezy to divide profits, and property 51% – 49% for artists on Young Money. Their term came to an end June 4, 2015, a fact that could affect Drake's Views From the 6 release.
Wayne is seeking $40 million in damages and owed profits. He also wants a judgement on rights regarding the distribution of label performance royalties.